The results of AMS's 2021 Client Satisfaction Survey are in! We are proud to report that 100% of respondents said that they would recommend AMS to another organization in need of association services. This is the third year in a row that we have received this result.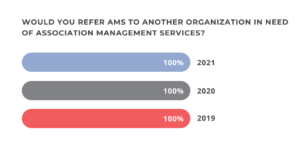 AMS clients also rated us very highly across a range of specific service areas, including executive management, finance, membership and program support.
Here's what one of our clients had to say:
"I do not have any suggestions for improvement. I hope that the staff know how much we appreciate them. I look forward to continuing to work with everyone at AMS."
– Karen Wientjes, President, ABWM
A note on how the survey is conducted: each July, AMS's primary contact for each client is invited to respond to the survey. The survey responses are anonymous, giving clients the opportunity to provide open and honest feedback.
We believe that the overwhelmingly positive results from this survey demonstrate the high standards characteristic of an AMCI accredited institution. AMS is among only 13% of association management companies accredited by the AMC Institute, thanks to our focus on continual improvement and emphasis on staff development.
We would like to thank our clients for providing this invaluable feedback, and for inspiring us to replicate these results in 2022!