About AMS
With integrity, excellence and collaboration as its core values, Association Management Strategies, Inc. (AMS) was founded in 2007 by John Flatley, a Capitol Hill and trade association veteran.  With early key strategic hires, AMS built a foundation providing the staffing and resources of a traditional association management company, with expertise in the public policy arena.
Today, from our headquarters in the heart of Washington, DC, AMS provides comprehensive and specialized services to a diverse set of client partners.
Building genuine, strong partnerships has always been at the center AMS's corporate culture. We have found our greatest success in matching our client partners with a team drawn from our pool of talented association professionals to meet the unique needs of each organization. As AMS has grown, we have enhanced our offerings by recruiting key expertise in the areas of Human Resource, Finance and Operations. This has allowed AMS to broaden the scope of services it provides our clients.
AMS's measurable expansion over the past decade is a direct result of the relationships we have built with each of our clients and our ability to understand their industry-specific needs. We look forward to hearing from you on how the AMS team can help drive the vision, growth and direction of your organization.
Our Culture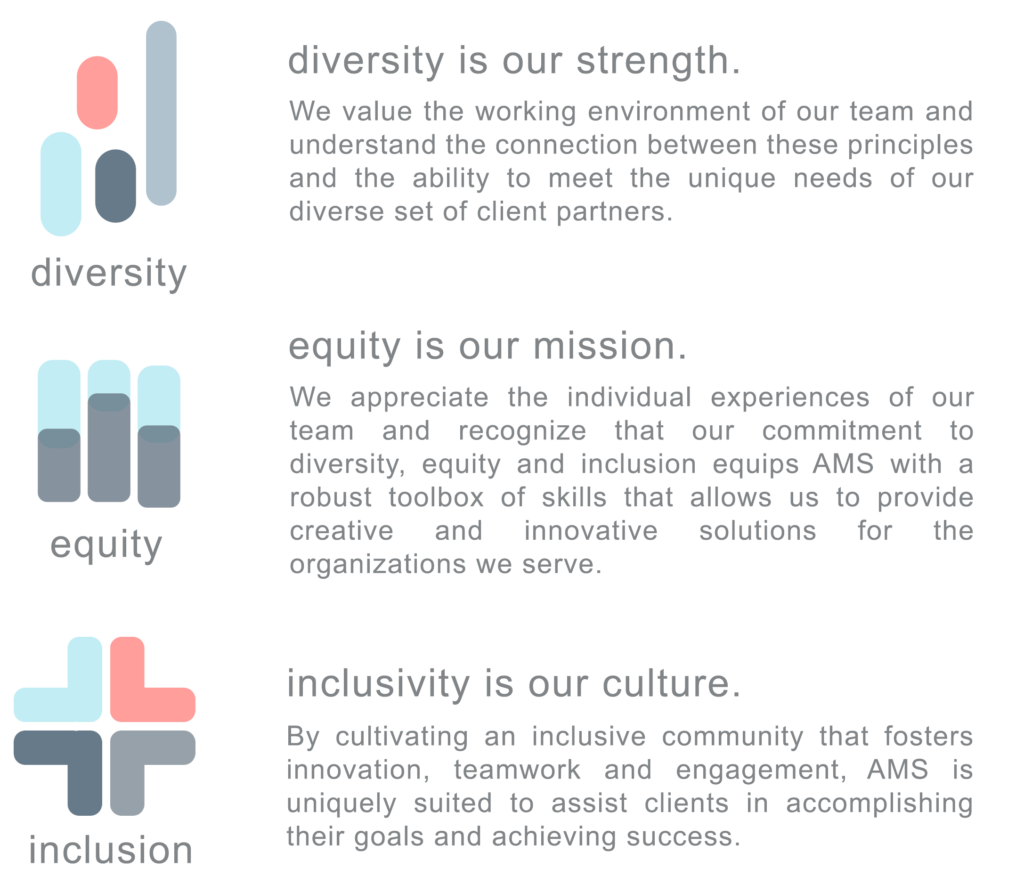 AMS Services
AMS provides the full range of professional services required to operate industry coalitions, associations and foundations. Our shared services model allows you to tap into the power of our team of professionals and specialists but opt only for the level of support you need to accomplish your organization's goals.
For clients who choose full-service association management, AMS provides the staff and leadership to run the daily operation of your organization. For clients that are looking for support for only select departments or functions, AMS can customize a package of services that best meet your needs. Learn More…
AMS in Numbers
Our People – 18 years of average management experience
Our commitment to excellence is backed by our team's wealth of experience. AMS account managers have led more than 75 associations.
Our Values – 626 hours logged on staff development in 2022
Emphasis on staff development and focus on continual improvement are just two of the reasons AMS is among the 13% of companies accredited by the AMC Institute.
Our Partners – 25 clients representing 17 industries
AMS provides a comprehensive suite of executive management and operational support services to industry trade associations, coalitions and foundations.
Your Choice – 42 professionals power your AMS Team
Our shared services model provides organizations with customized executive, financial, meeting planning and operations support from our Washington, DC office.