Hispanic Heritage Month is an official celebration of American citizens whose ancestry can be traced back to Spain, Mexico, Central and South America and the Caribbean. It also pays tribute to the generations of Hispanic Americans who have positively influenced and enriched our nation and society.
1968 was the first year that Hispanic Heritage was celebrated, during a week-long celebration. Twenty years later, in 1988, it expanded to dedicate a whole four weeks for the celebration of being Hispanic. The celebration now lasts from September 15 to October 15 every year.
For Hispanic Heritage Month, AMS' DEI Committee members, Ryan Smith, Associate and Maria Vasquez, HR Associate prepared an educational presentation which was shared with the entire AMS team during our monthly staff meeting. The educational session included information about Hispanic/Latino identity in the U.S., Hispanic Heritage, and history, Latinx identification, cultural values, generational statistics, and workplace statistics.
For example, according to the 2020 U.S. Census, the Hispanic community consists of an estimated 62 million individuals, making up the nation's largest minority group at 18.5% of the population. What's more, a quarter of the nation's Generation Alpha demographic (born 2015 and after) is considered Hispanic, creating opportunities for community, educational, government, and corporate leaders to identify new, more diverse leaders and create increased equity and inclusion for future generations of the Hispanic community.
As part of their presentation, Maria and Ryan put together a list of helpful resources which you can view below: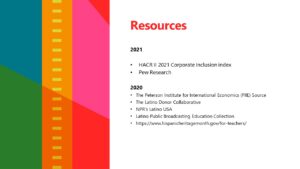 Thanks to Maria, Ryan and the DEI committee for a fantastic presentation. AMS is proud to recognize Hispanic Heritage Month, and we remain committed to continually enhancing our DEI practices across all levels.